If you want to find the car owner by registration number, then approaching DVLA is the best option. Because, according to laws in the UK, no vehicle check will reveal the owner's personal information. It is unlawful.
Trying to know how many registered keepers a vehicle had and some other crucial information? Then this guide will help you. So, you can buy any used car with peace of mind.
Will A Vehicle Check Shows Registered Keeper Name?
No, it is unlawful in the UK to reveal the registered keeper's or owner's name without their permission until or unless you have a legal cause. Still, if you want to find out, contact the DVLA and request driver details and give them a "legal cause" – they will analyze the situation and provide you points if the reason was valid enough.
Note: No vehicle check (even the HPI) will show you the current registered keeper name, address or contact number.
What Owner Information Will You Get In A Vehicle Check?
A simple vehicle check from The Auto Experts will show the number of registered keepers who have owned the vehicle previously but not the owner's personal details such as contact number or address.
Get a Vehicle check here and we will reveal to you the following information.
Date of first registration, model and year
Total number of car owners according to the V5C logbook
The date when the last owner sold the vehicle
The date when the previous owner bought the car
Town or city where it was first registered
…and more data!
Our comprehensive car check only costs £9.99 (cheapest check compared to other providers) and get the details about the vehicle outstanding finance, accident history, stolen, scrapped, and many more.
Where can I find the number of previous owners?
Several options are available if you want to search for your previous car ownership history. Here are a few examples:
1. Check the number of previous owners (keepers) of your car by Running a vehicle history check for your car at £9.99
2. Make sure the V5 logbook is accurate. Check out this information.
3. The DVLA must be contacted via Form V888 – see instructions below.
How to Find Car Owner Details and address with Licence Plate?
Still, if you want to find a car owner by number plate, whether it is the name or address you seek, the process is the same for any detail, i.e., Fill out the V888 form here, specify a valid cause, and send it to the DVLA. But keep in mind that there are negligible chances of getting the details when the reason is insufficient. For instance, if your motive is to know the owner of a car parked outside your house, it is better to let DVLA or the local council.
Below is the sample of the V888 form.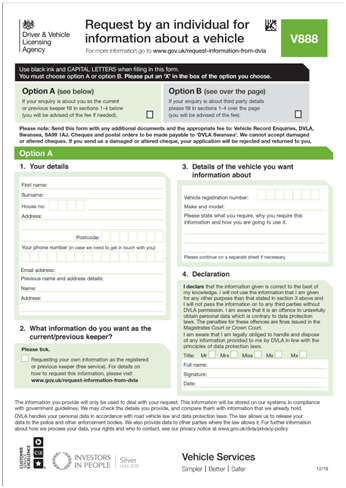 What If I Have A Legal Dispute And Need The Personal Details Of A Vehicle's Registered Keeper Or Owner?
No, any vehicle check will show you this information. Finding a car owner by registration number is not easy as it seems because the DVLA cannot disclose the privacy of others for no reason. Plus, it is illegal; no one can access such information without a legal cause like below.
Knowing the driver in a hit-and-run case.
Finding owner speculated of insurance fraud.
Discovering the owner of an unknown car parked outside your house.
Locating the owner of a dumped car.
For sending trespass charge and parking tickets notices to car owners and so on.
So, a better alternative is to contact the DVLA for it. The legal dispute with someone is not a "just cause" so, there are fewer chances, but it is free to try.
SUMMARY
When you are concerned about a car, you can get some details (not the owners') from our vehicle check, but not the car owner's personal information. For that, you should contact DVLA or your local council. The DVLA will ask you for a reason; if your defence is valid enough, they will disclose the personal details of the car owner.
FAQ
1.Does a V5C shows all previous owners?
No, it shows Only the current keeper plus the previous keeper's information.
2. How can I check the other details about previous keepers like their names, address?
If you are looking for these kind of specfic information like name addresses, then you have to request it to DVLA with proper reason.
3.How many keepers for a car is too many?
Buying a car with numerous prior owners who have maintained it well is not a bad idea.
The physical and mechanical condition of a car is significantly more important than its various owners.