Free HPI Check: The Hire Purchase Investigation (HPI) Company, the pioneer of this business, provides a car data check service. However, modern, improved, and cost-effective vehicle inspection service providers do their best to assist used car buyers. The car data market in the UK has evolved and opened up, meaning you can now get the same information about the vehicle from other providers, but for less money.
Still, some people prefer free HPI checks because they think it is an all-in-one package and provides information that others do not. Well, it is a half-truth. The HPI check has only one Package. In contrast, we have two packages; Free and premium. If you want the same information as the HPI, opt for a premium car history check, and you will find no info missing – That is a promise.
But buyers beware; most car history check services scam you with the cheapest HPI check label. There is no such thing as a Free HPI check. Finding a genuine service provider like The Auto Experts would be best, where you get a premium check (equivalent to an HPI check).
Who offers the cheapest HPI clear check for used cars?
We understand you like to change cars often, so finding the cheapest HPI check in the UK has become more relevant than ever. We offer one of the most affordable, authentic, and comprehensive vehicle checks. View sample.
Let's compare Auto Expert's Car Check (£9.99 with £30,000 data guarantee) with three other highly regarded car history checks.
 HPI Check (£19.99) – With A Data Guarantee Of £30,000
Three complete checks cost – £29.97(redeemable within two years). While it is the most famous and the oldest car check in the UK, it is also the most expensive. Whatever car data you get from the HPI, you can also get from us, so why pay more?
 RAC Check (£14.99) – With A Data Guarantee: £30,000
Another top-rated and authentic car history service in the UK, RAC offers all the data we provide for £14.99. Source. There is no point in paying more pounds for a single check.
 The AA Car Check (£14.99) – With A Data Guarantee: £30,000
Again, one of the UK's most reliable car data history providers is far more expensive than The Auto Experts, with no difference in the amount of vital information we provide.
As you can see, we are most economical not only in the base price but also in the fact that we are also most affordable when it comes to multi checks. Our all-secondary vehicle checks are available for £4.99.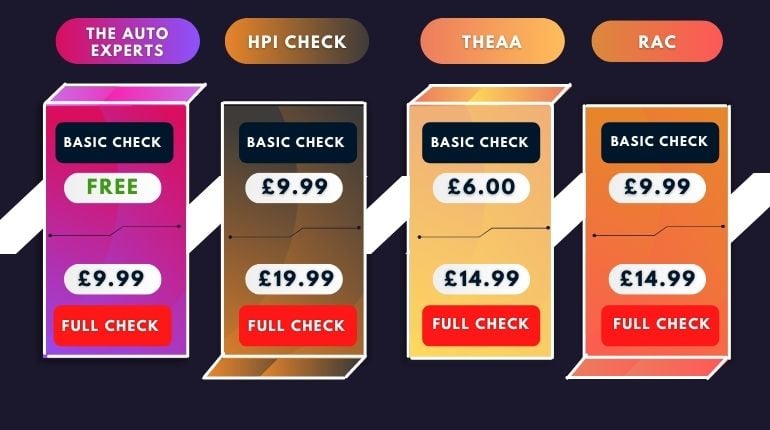 What is the price of the HPI check?
HPI offers only one Package, which is not cheap at all. For a one-off vehicle history report, they will charge you £19.99! Source.
Now you can get the cheapest HPI check for just £9.99 Plus, our data providers are the same, and we also offer a £30,000 Data Guarantee against the cheapest HPI check we provide, while the official HPI Offers you the same. So, there is no point in paying more.
Are you still waiting to get a check? Type the Vehicle Registration number and click "Get Report" to get basic information about that vehicle. It doesn't cost you any pence. Upgrade to our premium report and explore all the hidden history of the car. You got the cheapest HPI check and saved up to £10.
What I get from a cheap car HPI Check alternative?
The Auto Experts come as the cheapest HPI check alternative while offering all the car details you expect from HPI. Here's what you will get by paying just £9.99 against HPI's £19.99.
Same information as the Official HPI

Less than half the price of the HPI Check

Vehicle history report within seconds.

24/7 Beneficial customer support

Two packages, Where the Basic check is free and the premium for just £9.99, the cheapest vehicle check available in the market

Offers the second-time check at £6.99 for a lifetime, making us the UK's cheapest car data check provider.
Can I get a free HPI check from The Auto Experts?
Both yes and no,
We offer a Free vehicle check, less detailed than our premium and not equivalent to an HPI check. No provider can claim they can give you a free HPI check alternative. If there is one, it is a scam because, for the premium check, the providers are being charged from their sources. How can one offer a free Check when they are being accused themselves? They would go bust overnight!
The DVLA charges us £1 to £5 for each check, so no one will give this kind of information for free as it would be a loss for them. Also, providing such information for free is illegal as per the Terms and Conditions of various third parties.
But it does not mean our free vehicle history check is not worth it. You can get a lot of helpful information and help to buy a used car. However, the fact is a fact; you have to pay for the detailed report. Here you can find the ultimate guide to conducting a free car HPI check.
How to run a free online HPI check?
Making an informed decision when buying a used car requires knowing the vehicle's history and condition. An HPI (Car History and Protection Information) check is one of the best ways to accomplish this. In this in-depth tutorial, we'll lead you through performing a free HPI check on a car, ensuring your peace of mind and avoiding any potential problems. 
Obtain Information: Get the vehicle identification number (VIN) and registration information.
Pick a Trustworthy Platform: Choose a reputable internet resource that provides free HPI checks.
Enter the details: Enter the vehicle identification number (VIN) on the platform.
Create a report: Typically, the report will be generated in a few minutes.
Analyze the report: To comprehend the vehicle history, carefully examine the report's results.
Advantages of free HPI check
Transparency: By providing free HPI checks, sellers enable customers to make educated selections.
Risk reduction: By drawing attention to potential concerns, customers can avoid buying cars that have unreported issues. Having confidence in your investment is made possible by being aware of the vehicle's history.
Peace of Mind: Trust in your investment is made possible by knowing the vehicle's history.
Power in negotiations: Buyers may effectively bargain with sellers with proper knowledge.
How does a free HPI check work?
A free HPI check works by pulling data from various databases to compile a comprehensive report about the vehicle. It cross-references information from sources like the DVLA, insurance companies, and the police to provide a clear picture of the car's history.
Steps to perform a free HPI check online
Gather Information: Collect the car's registration and VIN (Vehicle Identification Number).

Choose a Reputable Platform: Select a trusted online service that offers free HPI checks.

Enter Details: Input the car's registration number or VIN on the platform.

Generate Report: Wait for the report, typically within a few minutes.

Review the Report: Carefully analyze the report's findings to understand the vehicle's history.
Conclusion
The HPI check is crucial before buying a used vehicle, but you can get the same information from our premium check-in for less than half the price. So, order our cheapest HPI check to save your pounds and drive with peace of mind.
Answering your questions
Where can I find the cheapest vehicle check?
It isn't just what we say- we genuinely believe it. See the results in the table below, or order a premium vehicle check for peace of mind.
Do MOT and Tax data still need to be made available for free?
You can find some information on gov. uk – But our reports contain far more data than this. Free reports aren't just alternatives to DVLA. We provide Free report users with the following and MOT pass/fail information.
Can you HPI Check a car for free?
Any Service that claims to offer a free hpi check is highly misleading. There is no such thing as a Free HPI Check, and you will not be protected from vehicle fraud or scams if you use it.
How frequently should I run an HPI check? 
Every time you're thinking about purchasing a used car, it's advised that you run an HPI report, especially if the offer appears too good to be true.
Can an HPI check on a leased car be run? 
An HPI check is also helpful for leased cars because it might uncover any underlying problems that impact the leasing process.
Can I sell it for a higher price if I have a thorough car history? 
Yes, a thorough history report can increase the value of your car by giving purchasers trust and fostering transparency.
Related Blogs : 
When buying from a dealer, do I need an HPI check?
Classic Car HPI Check: What You Need to Know Before Buying