As per UK law, if you were caught driving a car that has been reported as stolen in police national computer, you are responsible for it. So, if you have decided to buy a second-hand car, take caution first.
There are several ways to check if the vehicle is reported as stolen or has any other hidden history against its registration number plate.
Did you know? In the UK, around 89.4 thousand cases of vehicle thefts are recorded, and in that, only 40% returns to their owners.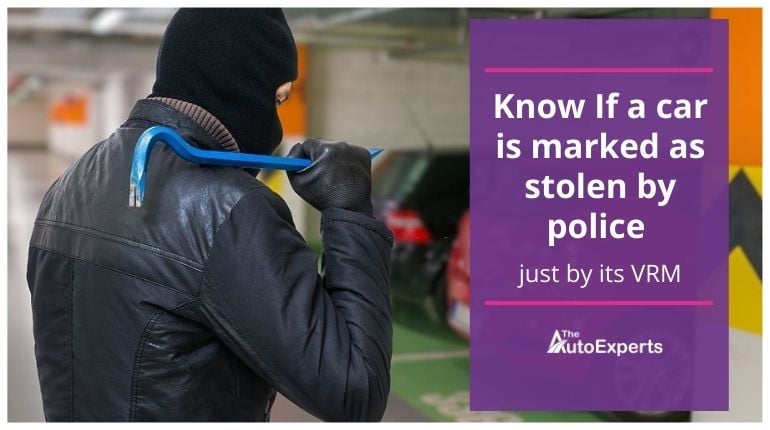 Can I Check If a Car Is Stolen by its VRM?
Yes, if you have the VRM, our stolen car check will reveal the vehicle's date of theft and contact number. And these details are directly sourced from the police database.
It will cost you just £9.99, but you will get complete peace of mind that you are not purchasing a vehicle that is reported stolen and has an adverse history like:
Live MOT & tax status
Outstanding finance against the car
Chassis number & engine number
And 30+ data points.
Our car history report will surely save you from buying a stolen vehicle. So, no need to worry; you are in good hands!
How to find the stolen reported car?
Stolen vehicles come to the market with a hidden identity, so you must take more precautions. While buying a second-hand vehicle, you must do
Check the V5C vehicle registration certificate or logbook and make sure it has a "DVL" watermark on it.
Make sure the vehicle's logbook is genuine by doing your research. Keep in mind that the VIN must match those listed in the logbook. If you find any mismatches, walk away from the deal.
Note if the seller is saying excuses for not having the logbook. If it is, don't buy such vehicles as stolen cars usually come to sale without the proper or fake identity.
Ensure the vehicle identification number and the number plate match the logbook records.
Match the MOT history and status with the given details, even if it is a private sale.
A fraudulent logbook does exist. Check if the logbook serial numbers between BI2305501 to BI2800000 or BG8229501 to BG9999030 indicate a stolen car.
If you find any of these suspicious activities, it's better to walk away from the deal.
What if by Any Means I Bought a Stolen car?
If you bought a stolen car unknowingly, the police have the legal right to seize the car from you anytime & mark it as stolen.
Secondly, if the marked vehicle is on the road, the ANPR camera detects the number plate & informs the police. If you get caught driving such a marked car, the police will hand over the car to the owner or insurance company.
And, it is hard for you to prove the vehicle is bought in good faith. In the end, you'll lose your money spent on it and the car itself.
Did you know? "In the top 10 most stolen cars models, the Ford Fiesta topped one & it is retained its position in 2021. "
Can I claim for my stolen car?
The belief is you can't get compensation for the stolen vehicle. Even you have comprehensive coverage, the insurer or company will not protect against it.
However, you have the proof of buying the car with good faith, and from a reputed dealer, only a few insurers can hear you. It's better to take a respective step to avoid buying such stolen cars.
Summary
There are various factors to consider when buying a second-hand car, and in private dealings, many such cases are reported, and the buyer ends up facing it. So, no need to buy the used car in the first place, but if you have no option left, then at least order a stolen car check to save your hard-earned cash.
Also, keep in mind that no one will provide you free stolen car check – such people are fraudsters and make you believe that the car is not stolen without checking it.
FAQ
How can I avoid buying a stolen vehicle?
Buying a stolen vehicle is a serious offence that can lead to heavy fines and even jail time. As per the advice given by police, you need to check how to protect a car from being stolen before you buy it.
Why run a stolen car check?
You don't want any unknowns when you're purchasing a used car.
Running a free stolen check lets, you see if and when the car you've been considering is marked as stolen. You can then get in touch with the police for full details.
Is there a charge for this stolen car check?
Not at all. You simply enter the reg number, create a free account, and you can access your report straightaway. If you want more info like personal finance data, you can upgrade to a full vehicle history report.